Monday, April 3, 2023 / by Alvina Usher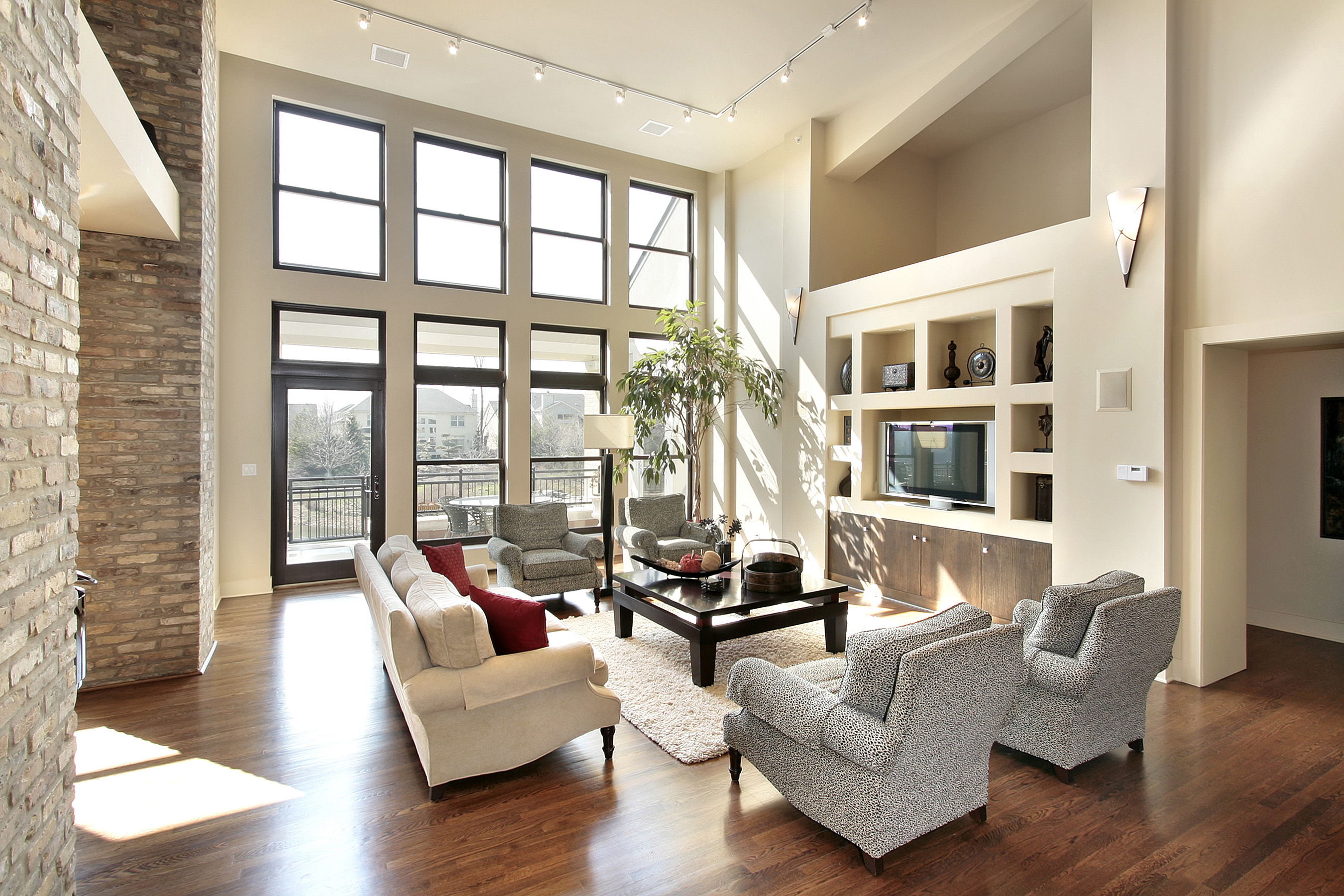 Cleaning Your House to Sell?

Checklist for Homeowners
Deep cleaning a house for sale sets the stage for professional quality photos and effective staging that enables buyers to visualize a property as their future home.
Moreover, a clean house gets your listing buyer-ready for successful showings. When your house is super clean from top to bottom, buyers see a pristine home they are more receptive to overlooking missing wishlist items like a must-have fireplace.
But the chore of deep cleaning an entire house on your own can feel overwhelming. To help make the task more manageable, we've put together a house cleaning checklist so you can reduce overwhelm and work at your own pace.

More information about Selling Your House and preparation of the house for sale you can find in my FREE book.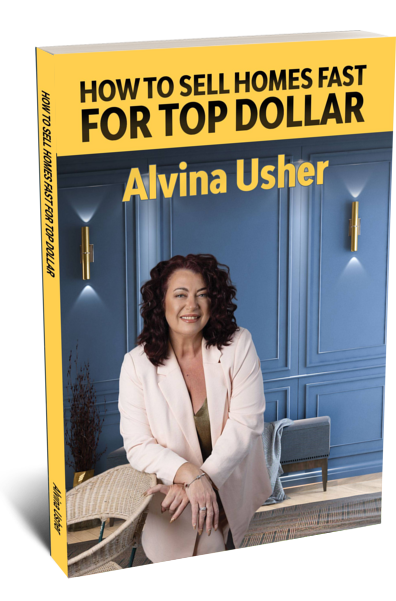 Cleaning your house to sell: checklist
Declutter and depersonalize
Stacks of papers on the kitchen table, family photos on all the walls. Toiletries left on the bathroom sink. Knick knacks on shelves and bookcases. Personal belongings dissuade buyers from imagining themselves living in your home. When your home is heavily decorated and piled with your personal stuff, potential buyers see someone else's house instead of their future home.
Closets, drawers, shelves, and counters are the areas in a house that are most prone to clutter.
In these spaces, sort your clutter by making three piles: one pile to throw away, one to do net and sell and another to box up or put in storage.
Closets are the place where people toss their stuff when they can't find an immediate place for it.
*Pick everything up off the floors: Having a clean closet floor not only makes your closet look tidier, it gives the illusion of a more spacious closet.
*Clear off your closet shelves: Remove piled-up shoes, blankets, and other items off the shelves.
*Remove excess clothing from hangers: Having a closet packed with clothes presents a messy appearance.
*Stage your closet: Staging isn't just for furniture. You can also stage your closet by showcasing your handbags, pillows, apparel, and decorative boxes on a shelf of its own.
*Pare down your closet: Keep a minimal amount of items on hangers. *Coordinated tops, jackets, and slacks by color. Display handbags, pillows and decorative boxes on a shelf of its own to make a designer-approved presentation.
*Drawers are often the home for piled-up receipts, recipes, paper, coins, menus, brushes filled with hair, and miscellaneous items. While buyers might not comb through your dresser drawers, don't be surprised if they open up your kitchen drawers and the drawers in your bathroom vanity.
*Throw items in the trash you no longer need like old menus.
*Organize batteries or like items in small boxes.
*Put hair brushes and combs supplies in a basket beneath the sink.
*Buy dividers and drawer organizers make your drawers look neat
*Fold clothing and linens so they look neat
*Shelves can pile up with everything from books to collectibles and can get messy when the shelf is the closest space in reach.
*Give away books you've already read or donate them to a library.
*Keep plants on shelves to a minimum. Place a few around the home strategically, one in the bathroom, one on a kitchen or living room shelf.
*Remove personal photos and knick-knacks from shelves by packing them in a box hidden out of sight.
*Like closets, you can stage bookcases into a stylish display. Lay some books on their spines and others upright. Make sure to leave plenty of space in between. A plant and a candle also creates a nice touch.
Organize your pantry shelves with organizing systems to keep things tidy.
Cleaning supplies
Your home contains various surfaces which can include granite, marble, wood, glass, leather, and laminate. Some cleaning products are abrasive and can damage surfaces, so make sure you have the appropriate cleaning supplies to protect surface finishes. Do a walkthrough to assess what products you'll need.
Kitchen: countertops, appliances, cabinets, hardware, tile, fixtures, floors, walls, windows, doors
Bathroom: toilet, countertops, walls, floors, tile, bathtub, glass, fixtures, windows, doors, vanity, hardware, mirrors
Living room: leather, upholstery, wood, glass, carpet, floors, walls, windows
Bedrooms: carpets, flooring, furniture, TV, floor, walls, windows, mirrors, fixtures
Garage: shelving, storage cabinets, workbench, walls, floors, windows
When in doubt check with manufacturer.
Room-by-room house cleaning checklist
Kitchen cleaning steps
Step 1: Countertops. Dust off the top of countertops and apply the appropriate cleaner according to the manufacturer's instructions. For granite, marble, quartz, and natural stone use a product like Granite Gold Clean and Shine Spray for cleaning and polishing.
Step 2: Refrigerator. Remove magnets and kid's drawings from the front of your refrigerator. If your fridge is stainless steel, spray it with a product like Weiman Stainless Steel Cleaner Polish and wipe it with a clean cloth. Other surfaces can be wiped down with soap and water.
Make sure to remove all the shelves. For tough stains, use a non-scratch scouring pad. Then finish the job with a disinfectant.
Step 3: Oven and stove. Most ranges come with self-cleaning ovens that deep clean with 900-degree heat. Once the oven cools, wipe down dirt with a non-abrasive sponge. If you have an older range, pick up a can of oven cleaner spray and follow the instructions on the label.
Step 4: Dishwasher. To deep clean your dishwasher, remove the racks and clean with soap and water. For odors and heavy cleaning, add a cup of vinegar and a cup of baking soda or fresh lemon peels, which also removes odors in garbage disposals.
Bathroom cleaning checklist
Step 1: Toilet. Pour a toilet bowl cleaner such as Lysol Power Toilet Bowl Cleaner inside the toilet and let it soak for about 15 minutes to dissolve stubborn stains. Scrub with a toilet brush and flush the toilet when done. Freshen things up with a deodorizer in the tank.
Step 2: Sink, bathtub, and shower. Clean out hair from the sink and drain. Utilize a drain cleaner for clogs. Soft Scrub® All Purpose Cleaner works well for the sink and tub. Polish the fixtures with a vinegar and water mixture or a product formulated for the finish. Dry with a paper towel and throw away. You can also use glass cleaner on some sink fixture finishes such as chrome. For showers with glass doors, use a tile and shower cleaner for the inside, and a glass cleaner on shower doors.
If your bathroom grout has mould you can usually remove it with a bleach cleaner spray. Cracking caulk usually an easy DIY project. Just dig out the caulk and reapply with the new caulk.
Step 3: mirrors make great accent pieces, and can give the appearance of more light and a larger space. Glass cleaners are a great way to clean mirrors for a streak-free shine. Just spray glass cleaner and wipe with a paper towel.
Bedrooms, living rooms, and the rest of the house
For the bedrooms, living rooms, and the rest of the house, work from the ceiling to the floor since dust and dirt falls down. When cleaning floors work strategically from the back to front so you don't have to backtrack over an area you just cleaned.
Step 1: Dust and clean the walls.
Remove artwork, decor, and nails from the walls. If your wall has a lot of holes, consider patching the nail holes in the walls. Now you're ready for dusting. Use a mop with a towel around the mophead or an extended duster used for cleaning ceiling fans.
Remove cobwebs from the ceiling and dust the walls, and baseboards. Don't forget doors and window frames between the walls as well as ceiling fans, and lighting fixtures. Dust window treatments or remove them for cleaning. Always follow the manufacturer's instructions.
When you're finished dusting, prepare a bucket with soapy water and a large sponge, then wipe down the walls. Work in small areas gently cleaning walls and wipe with a dry, clean towel. You can use Mr. Clean Magic Eraser to remove scuff marks. Always work with a clean bucket. If it gets dirty, refill with soap and water. Clean windows inside and out with glass cleaner.
Step 2: Dust and polish furniture
Next, you're ready to tackle the furniture. Use a feather duster or microfiber cloth. If the furniture is dirty, use a wood clean like Murphy's Oil Soap. Pledge Multi-surface II Antibacterial Cleaner is safe to use on plastic, sealed wood, laminates, and electronics. Clean TV screens according to the manufacturer's instructions.
For laptop and LCD screens, always follow the manufacturer's instructions. For keyboards, use Blow Off or another compressed air dust cleaner.
Start with ceiling fans, hit the bookshelves and shelving units, and media cabinets.
Step 3: Clean upholstery and drapery
When cleaning an upholstered couch, lift the cushions and vacuum using the upholstery attachment. For leather furniture, you can use Weiman leather wipes or Weiman Leather Cleaner and Conditioner. Always spray the product on a soft, clean cloth rather than directly on furniture.
Dust window treatments. If they're dirty, throw them in the laundry if they're machine washable or have them dry cleaned.
Step 4: Sweep, vacuum, and wash the floors
Move furniture out of the way and clean floors and carpets with a broom or vacuum. Use the brush attachment to get tough dirt on the baseboards, in crevices. Shampoo carpets. If they're dirty or dated.
Mop floors with a mop, bucket, and the recommended floor cleaning solution. When washing hardwood and laminate, your mop shouldn't be too damp. Make sure your mop is cleaned and sanitized after cleaning the bathrooms.
Tips for preparing for showings
If you're living in the home you're selling, things can get out of place fast. Follow these tips, for a successful showing:
Make all the beds.

Place the coffee pot and small appliances on counters under the sink.

Straighten throw pillows in the living room, porch, and on beds.

Put away toiletries and fold towels neatly in the bathroom.

Place an air freshener dispenser in all main rooms.

Stage your home for sale even if you're on a budget.

Place a plant in every room.

Wipe down countertops and shine faucets in the kitchen and bathrooms.

Check mirrors for streaking.

Wipe smudges from stainless steel appliances.

Sweep or vacuum up any dirt or dust balls from floors.

make the entryway inviting with flowers in a planter.
Special tips for pet owners
Pets leave reminders of their scent throughout a home. While many of us love pets, you might also want to open your buyer pool by appealing to non-pet owners. For additional tips, read our guide on selling the house with pets.
For the open house, keep pets with a friend or family member.
Put away their beds, food and water dishes, and litter boxes.
Vacuum up pet hair.
Sprinkle baking soda on carpets and your pet's favorite furniture; vacuum in 30 minutes.
Now you're ready to wow buyers with a home interior that's as clean as a whistle. But don't forget exterior. Deep clean outdoors by power washing the driveway, walkway, and exterior walls. If you're lucky enough to have a pool, make sure to clean the pool or keep the cover on. Tidy up the landscape with weeded and mulched flower beds, pruned shrubs, and swept driveways.
---